Udemy- Learn to Code with Ruby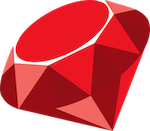 COMPLETION CERTIFICATE
COURSE LINK

---
What is Ruby?
An object-oriented programming language
A popular language across the world
Released in 1995 by Yukihiro Matsumoto ("Matz")
Open-source project in development today
Available for both Windows and Mac OS operating systems
Ruby Design Principles
Ruby is a high-level programming language.
Ruby is an interpreted language. It does not need to be compiled.
Ruby code is read top-to-bottom, line by line.
The program that runs the Ruby code is called the interpreter.
Everything in Ruby is an object.
Ruby is dynamically typed. Variable types do not have to be declared. The same variable can be reassigned to an object of another data type.
Strings are mutable objects.
Syntax Best Practices
Variable names should start with a lowercase letter or underscore
Use underscores (lower_snake_case)
Resources
Course Progress
100% - completed 4/27/19.
---
About Me
I'm a staff data engineer working to advance data-driven cultures by wrangling disparate data sources and empowering end users to uncover key insights that tell a bigger story. LEARN MORE >>
---
comments powered by

Disqus